Investment Possibilities / Infrastructure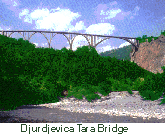 In preparation for membership of multinational organizations such as IMF, World Bank, EBRD-which should open channels for the necessary funds- the government has identified key infrastructure investment schemes requiring immediate financing. These include a $100 million water supply and treatment project along the coast, the electrification and modernization of the 60-km rail link between the bauxite mines of Niksic and the aluminum plant in Podgorica, and the construction of four hydro-electric plants to exploit Montenegro's energy generating potential, of which 60 per cent is currently unused, at an estimated cost of $424 million.
It is Montenegro's neglected roads that require the greatest amount of investment, through. Five major projects have been selected requiring total investment of more than $1 billion. Although the republic's mountains and canyons offer ample potential for hydroelectricity and tourism, they have an expensive down side when it comes to building roads, with construction costs inflated by the need for numerous bridges and tunnels on even the shortest routes. For example the construction of 65-km highway between Bar and Podgorica involves 10 km of bridges and tunnels, including one 5-km tunnel costing $60 million out of projected 210 million cost of entire project. To attract foreign capital to the road building program the government is offering fixed term concessions to collect tolls on the newly constructed routes.
As with most facilities in F.R.Y. the port at Bar (the largest in the southern Adriatic) requires substantial refurbishment. Currently operating at only two-thirds of its five million tons annual capacity, the government plans to increase this to 15 million tones, although the port's future is linked to the modernization of Bar to Belgrade road and railway.
Montenegro close historical ties with Italy (the last queen of Italy was the daughter of King Nicholas (Nikola) I, Montenegro' s first and only monarch) will play an important role in Bar's development. The creation of the free trade zone at the port has already attracted considerable interest from Italy, and as the land-locked Serbia's only route to the Mediterranean, Bar's position as a transit route should be assured.
Other areas which the government hopes will tempt foreign capital include wood processing (forest cover 30 per cent of Montenegro and there are currently 14 operating in the sector); mineral exploration and exploitation (deposits include lead, bauxite, coal, decorative stone, clay and peat); food processing; and tourism.