The Population of Montenegro
From ancient times, the Montenegrin territory has been a ground where numerous cultures and interests intersected, mingled and opposed one another. The reliable evidence on the earliest settlings in the territory of the present day Montenegro dates back to the paleolithic, to the beginnings of its medial stage.
The continuity of living in these parts is evidenced by numerous archaeological sites from Illyrian, Roman, Slavic, Venetian and Turkish periods as well as from the times of the Montenegrin state self being.
From the beginning of this century, the population of Montenegro has been recording continuous growth: from 1921 (311 341) to 1989 it increased by just over 300 000. After 1948 the urban population grew rapidly, so that nowadays it makes about 60 % of the total (or some 380 000) which is due to the intensive economic development of the Republic after 50's.
CURRENT POPULATION AND THE POSITION OF NATIONAL MINORITIES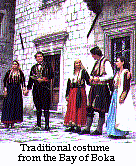 According to the census of 1991, Montenegro had a population of 617 000, made up of 61.7% (~381 000)of Montenegrins, 9.3% (~57 000)of Serbs, 14.5% (~89 000)of Muslims, 6.5% (~40 000)of Albanians and 8% (~49 000) of others. In addition, there are 139 299 Montenegrins living in Serbia. 74 096 in Serbia proper (including Belgrade), 44 838 in Vojvodina, and 20 365 in Kosovo.
Once a country of farmers (61.5% of the population in 1953), Montenegro has experienced a rapid urbanization-in 1991 the agricultural population accounted for only 7.4% of the overall population, with 58.2% of the population living in urban centers.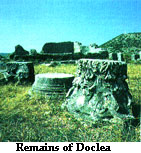 Hostilities in other areas of the former Yugoslavia have resulted in the influx of many refugees into Montenegro. Thirty percent (30%) of the refugees are under the age of 14, and 35.5% are over the age of 60. In 1993, the number of refugees reached 10 % of total population.
Montenegro is committed to the promotion of inter-ethnic relations. To assure that the rights of all persons, without regard to their ethnic or national origin, are protected, a special provision was added to the Montenegrin Constitution expressly ensuring the protection of all persons without regard to their national or ethnic origin.
Muslims and Albanians are completely integrated into the political, economic and cultural life of the republic. Indeed, in the previous sitting of the parliament, seven members were of the Muslim faith. Likewise, the Executive Branch had Muslims in high positions. The Deputy Prime Minister and the Minister for the Civil Service were of the Muslim faith.
There is a Council for the Safeguarding of the Rights of National Minorities, chaired by the President of Montenegro, established for the protection of national minorities and for the promotion of inter-ethnic relations.
(see also Population of Yugoslavia)