St. Vasilije of Ostrog (Sveti Vasilije Ostroski) - (29 April)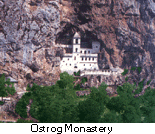 St. Vasilije of Ostrog comes from Popovo Selo (Polje)(1610) in Herzegovina from 'a simple but noble parents'. From the early days he was fulfilled with love towards the church of God, and once he grew up he became a monk of the monastery of 'Ascension of the mother of God' (Uspenje Bogorodice) in Trebinje. As a monk he soon became famous for his successive 'exploits'. In due course he was ordained as a Metropolitan of 'Zahumlje and Skenderija' against his wish (Lazarica, Journal of the Serbian Orthodox Church of the Holy Prince Lazar in Birmingham, no. 139, November 1996 p. 30).
As an archpriest, he first lived in Tvrdos monastery from where ' as a good shepherd he enforced his flock in the Christian orthodox faith defending them from the 'Turkish cruelty and Latin cunning' (ibid.). When Ottomans stepped up their campaign against Montenegrins, and destroyed Tvrdos monastery in XVI century, Vasilije moved to Ostrog where, accompanied by some 30 monks built a monastery by erecting the upper, cave church of St Christ in the steep stone (1665) so that Turks could never conquer it. It is said that 'Vasilije was shielding his flock with warm and never-ending prayers '(ibid.).
The two caves, one above the other, shelter the churches over three centuries old. They are adorned with icons painted in 1667.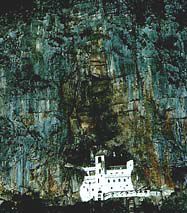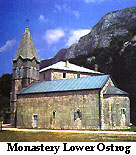 In XVI century, Vasilije introduced himself to the God, who is said to have preserved his relics in its entirety, and they are even preserved in its entirety to this day (ibid.).
During his life and thereafter, St. Vasilije has been famous for his healing and miraculous abilities. He was a person of exceptional virtues, the protector of people, healer and miracle worker. His relics still attract both, Muslims and Christians, who are finding cures for the most difficult and unpredictable illnesses and pains. Ostrog monastery hosts every year the "Great Gathering of People" (Veliki narodni zbor) for Trinity. On this occasion both, Muslims and Christians, come to Ostrog monastery to have their prayers granted and their illnesses cured.